It's Banned Books Week (September 24-October 1, 2011 ). Founded in 1982, Banned Books Week is the only national celebration of the freedom to read, and focuses on books that challenge the status quo, which have, in turn, been challenged, banned, or restricted. Many classic works of literature have suffered under these restrictions, including George Orwell's 1984, Kurt Vonnegut, Jr.'s Slaughterhouse Five, William S. Burroughs' Naked Lunch, Kate Chopin's The Awakening, and J. R. R. Tolkien's The Lord of the Rings.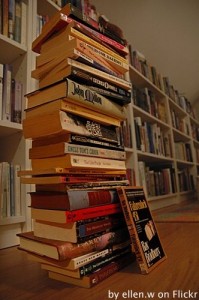 While H. P. Lovecraft's works haven't often fallen under the ban-hammer, he did create the ultimate banned book, the dreaded Necronomicon.
In celebration of Banned Books Week, I'd like to encourage you to visit your local independent bookstore and check out some of these challenged classic titles. And while you're there, take a look and see if they've got The Book of Cthulhu on their shelves. If not, let me know. I've got forty or so postcards left, and I'd love to send them one and let them know about the book.
Far from being banned (yet), The Book of Cthulhu has received some outstanding reviews lately. Brian Sammons at Horror World says, "The Book of Cthulhu is one hell of a tome." And Paul Goat Allen at Explorations: The BN SciFi and Fantasy Blog calls The Book of Cthulhu the "Ultimate Cthulhu Anthology," further saying:
"There are no weak stories here – every single one of the 27 entries is a potential standout reading experience. The Book of Cthulhu is nothing short of pure Lovecraftian gold. If fans of H.P. Lovecraft's Cthulhu mythos don't seek out and read this anthology, they're not really fans – it's that simple."
And, I was recently interviewed by David Templeton of The Pacific Sun [8.3MB PDF], where we talked about The Book of Cthulhu, the movie Apollo 18, and the difference between cinematic and literary horror.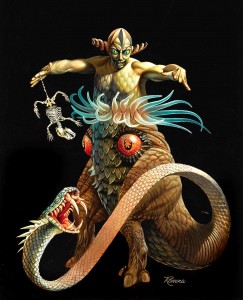 In other Lovecraftian news…
This week, on Monster Brains, Aeron Alfrey posted Rowena Morrill's cover illustration for the 1978 paperback edition of The Dunwich Horror and Others by H.P. Lovecraft. Wow!
And (inspired by the Paul Goat Allen review above) The Book of Cthulhu contributor Silvia Moreno-Garcia blogged a behind-the-scenes look at the origins of her story, "Flash Frame."
As always, this post was brought to you by The Book of Cthulhu, now available from better independent booksellers everywhere, and online through Amazon.com, and Barnes & Noble. Want your bookstore mentioned here? Drop me a line!