Interested in being a member of the street team promoting The Book of Cthulhu II? Want some free stickers? Feel like your neighborhood needs more tentacles? Just send a SASE to: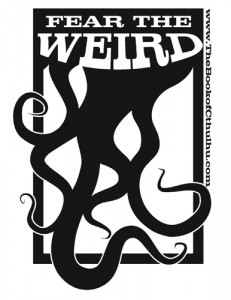 Apeshit! Media
Attn: Fear the Weird Stickers
PO Box 2074
Petaluma, CA 94953-2074
I'll send you a handful of stickers featuring this image to help decorate your reality. Fear the Weird! Cthulhu fhtagn!
The Book of Cthulhu II, twenty-four more tales of tentacles, terror, and madness inspired by H. P. Lovecraft will be in stores everywhere October 2, 2012. Pre-order at Amazon.com.