From the moment we announced the free (with SASE) Fear the Weird stickers, we've been inundated with one question: where are the T-shirts?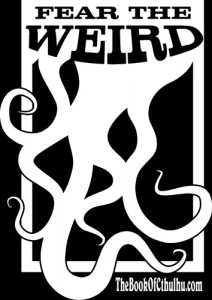 Wonder no longer. We can't wait to wrap our tentacles around your torso.
Now available from independent T-shirt vendor Skurvy Ink: Glow-in-the-dark Fear the Weird tentacle T-shirts. You know you want one. Protect yourself from the Great Old Ones and warn others! Spread the Weird! Sizes range from night gaunt to shoggoth (girlie sizes too!). Just click here to order.
The Book of Cthulhu II, twenty-four more tales of tentacles, terror, and madness inspired by H. P. Lovecraft will be in stores everywhere October 2, 2012. Pre-order at Amazon.com.